7th Fret Guitar Studios offers a fun and positive learning environment for kids, teens, and adults to learn how to play the guitar.  Since the beginning, we've specialized teaching students as young as 5 years old how to play the guitar properly and with lots of enjoyment.  Keeping in mind a child's developmental abilities, our teachers easily adjust and adapt the curriculum to give age-appropriate instruction to students of all ages.  See below to find the class that best suits you! Adults, please contact us to learn how we can serve you! Visit the FAQ and Studio Policies pages for answers to most of your questions.
GuitarPlay for Kids!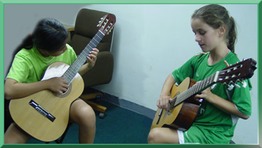 This class is designed specifically for children ages 5 - 12. Students learn proper guitar technique, how to play by ear, and note reading with familiar tunes. From the very beginning, students are shown classical guitar technique. In the first few months, students are aided in their practice by the GuitarPlay CD recorded specifically for 7th Fret Guitar Studios. Later, they go on to play chords and popular styles. We also recommend a parent attend each lesson in order to help the student at home. When the young student is ready, this curriculum transitions smoothly into our teen course. Ages 5 - 12.
Contemporary Guitar for Teens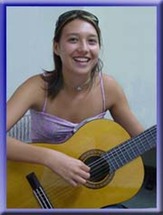 This course is designed with the teenager in mind; to give the student a solid foundation in guitar playing. Students learn all the basic chords, note reading, and improvisational soloing. A variety of styles are covered with an emphasis on rock and other popular styles. With our curriculum, students learn the basics while playing rock classics by Van Morrison, Bob Marley, the Beatles, the Eagles, Eric Clapton and more. Ages 13 - 18.

Private and Adult Lessons

At 7th Fret, we honestly believe beginning and intermediate students become better musicians and guitarists with the benefits of a carefully planned class curriculum like ours. The world's greatest guitarists attribute their success to playing with other musicians.  Our group curriculum gives students all the benefits of playing with other musicians.  However, there are some cases that may warrant a private lesson structure. Adults, due to their busy schedules, will like the flexibility of private lessons. Our instructors are trained and have the experience to discuss most topics and styles. Please contact us to find out if private lessons are for you!