Darin Au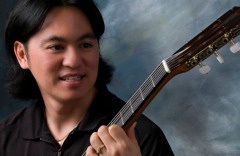 Darin graduated Phi Beta Kappa with a B.A. in Music from the University of Redlands. He received his Master of Music degree in Composition from the University of North Texas, home to one of the largest music colleges in the nation, which includes many music professionals and Grammy winners among its graduates. His compositions and arrangements have been performed across the United States, throughout Europe and in Asia, including a world premiere of his published work Chasing Dragons at the prestigious Guitar Foundation of America Festival in 2000. His works have been performed by several professional guitar ensembles, including the New York Guitar Quartet, the San Francisco Guitar Quartet, and the European guitar quartet, Guitar4mation. Benjamin Verdery, chair of the guitar department at Yale University, has also used a number of Darin's compositions and arrangements in his teaching (Maui '09) and at workshops (including the National Guitar Summer Workshop in Seattle '03) over the years. Darin is also the recipient of numerous awards and honors. He has performed extensively throughout the U.S. and among his local credits are concerts and CD recording with rock/reggae band Thick Tubes and radio and television appearances with Kapono Beamer. His compositions and recordings have also been heard in productions for Honolulu Theatre for Youth. He has held teaching positions at Sacred Hearts Academy and the University of Hawaii at Manoa. For 11 years, from 2005 - 2016, Darin served as the Academy Music Department Head at Punahou School. In 2017 - 2018, he will be the K-12 Learning Commons Catalyst, exploring creative ways for everyone in the Punahou community to learn and display work.  Over the past several years, he has presented workshops on teaching creativity at the Schools of the Future Conference, the Hawaii Music Education Association (HMEA) Conference, and to teachers and parents at Punahou School.  His most recent book is "Beginning Ensembles for the Next Generation of Guitarists."  "Chasing Dragons" was on the 2010 CD release, Chasing Light, from SFGQ.  "Dawning at Sunset," his three movement solo classical guitar composition, was a part of Ian O'Sullivan's 2013 CD release, "Born and Raised."  That CD was nominated for Instrumental Album of the Year by the Na Hoku Hanohano awards of the Hawaii Academy of Recording Arts.  Most recently, his composition for guitar ensemble, "Bailarina en un paisaje abstracto," was premiered at the HMEA Conference 2017 in a combined effort of the Maryvale High School (Phoenix, AZ) Touring Guitar Ensemble and the Classic Guitar Ensemble II of Punahou School.  In 2015, he was appointed to the Board of Directors of the Hawaii Pops as the head of the Education Committee.  He also serves on the NAfME Council for Guitar Education as the Western Division Representative for 2015 - 2018.
Jason Nomura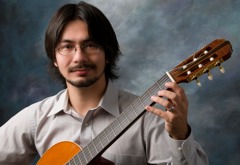 Jason earned his B.Ed. in Secondary General Music Education at UH-Manoa, where he enjoyed many honors. Included in those honors was a certificate of achievement for service in the local CMENC (National Music Educator Association) chapter, of which he served as President. In addition to his studies in classical guitar, Jason has been in several rock bands over the years and currently is in three; two cover bands, playing guitar/keys & singing, as well as his original project, Mantra. Jason graduated from Kadena High School, which is on the USAF Kadena Air Base in Okinawa, Japan, where he won numerous musical honors including band/choir student of the year, first chair honor band/choir, and a performance scholarship. Currently, he is part-time faculty at Punahou teaching, what else, guitar! Jason has been at 7th Fret since August 2009.


Matthew Love
Matt holds a B.A. in Classical Music Performance from the New England Conservatory where he attended on scholarship. In addition to his coursework in Music Performance, he also took great interest in completing a number of Music Education and Composition courses. Matt graduated from Punahou where he received the school's "Louis B. Armstrong Jazz Award" and the "Music Department Award," a prestigious award granted only in years where the department finds an outstanding student. While at Punahou, he performed in both the Symphony Orchestra and the Jazz Band for all four years. He also performed extensively with his punk band, p.p.e., where he played bass and sang. He co-wrote and recorded the band's two full-length albums. Since his return to Honolulu, Matt has been teaching double bass lessons privately, group guitar lessons at 7th Fret, and can be seen performing in various local productions around town. He also performs with Jason Nomura in their local alternative rock band, Mantra, and also composes and records his own original music:
matthewcodylove.com
Kimberly Oshita
Kimberly holds a M.M. in Guitar Performance from California State University Northridge and a B.M. in Guitar Performance from Arizona State University, where she graduated magna cum laude. Kimberly has served as a teaching assistant at California State Northridge, and as an instructor for Arizona State University's Guitar Prep Program.  She has been teaching guitar to children and adults, age 5 and up, for over 8 years. She recently moved back to Hawaii after studying classical guitar in Europe for two years with Hubert Kappel (Germany) and Lorenzo Micheli (Italy).  While at Arizona State University, Kimberly participated in jazz workshops and played electric guitar, microsynth and piano string in Arizona State University's experimental music ensemble.  Kimberly thoroughly enjoys teaching and playing music, and loves to share the process of discovering music with others. She is currently playing electric guitar in a couple of experimental rock projects.